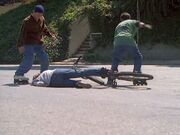 An inline skater is saved by Phoebe.
Personal History
Edit
Phoebe has a premonition of two inline skaters getting hit by a car. As she rides her bike further down the street she sees the two guys skating. She speeds up and crashes her bike in front of the car, nearly getting hit, but keeping the two skaters from harm.
Ad blocker interference detected!
Wikia is a free-to-use site that makes money from advertising. We have a modified experience for viewers using ad blockers

Wikia is not accessible if you've made further modifications. Remove the custom ad blocker rule(s) and the page will load as expected.