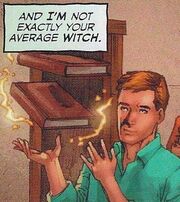 A telekinetic student attends one of Paige's lectures in Magic School.
A male student walks down the hallway as he telekinetically levitates two books in front of him. He sits with a few other students as Paige tells them about the Book of Shadows. As Jessalyn interrupts and is given the chance to cast a spell, the telekinetic student sits closely and watches. When Jessalyn erupts, the student runs out the door.
Ad blocker interference detected!
Wikia is a free-to-use site that makes money from advertising. We have a modified experience for viewers using ad blockers

Wikia is not accessible if you've made further modifications. Remove the custom ad blocker rule(s) and the page will load as expected.